Purchase Requisitions are official orders laying claim to the use of services or materials. They are assigned to only ONE building. It could be either for the building services or specific unit services. It can be manually assigned or created as a result of a Building/Unit inspections and/or maintenance request.
Example: The plumber needs to fix something in the building or even inside one unit.
Purchase Requisitions are composed of the cost of the repairs, the schedule and the assignment of work (vendor(s) and/or internal team).
CREATION OF NEW PURCHASE REQUISITIONS
To create a new Purchase Requisition, go to FINANCE -> PURCHASING -> PURCHASE REQUISITIONS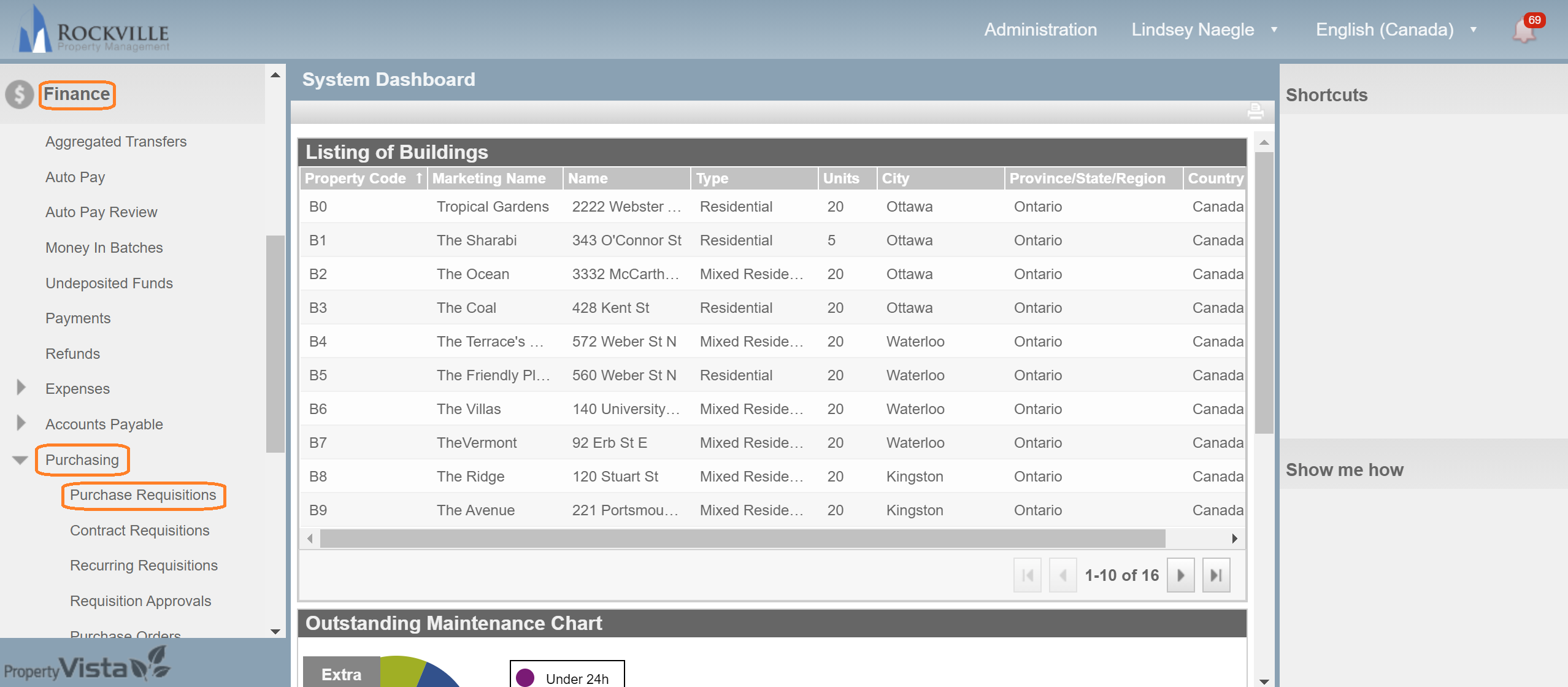 Select 'New Purchase Requisition' and then complete the form.

Complete which building, which unit (if empty, it becomes building level), and when to start. Once completed, click on SAVE.

Once the Purchase Requisition is created, you will have to select 'New Requisition Line Item'. A Purchase Requisition can have multiple line items and can be assigned to multiple vendors and/or internal team.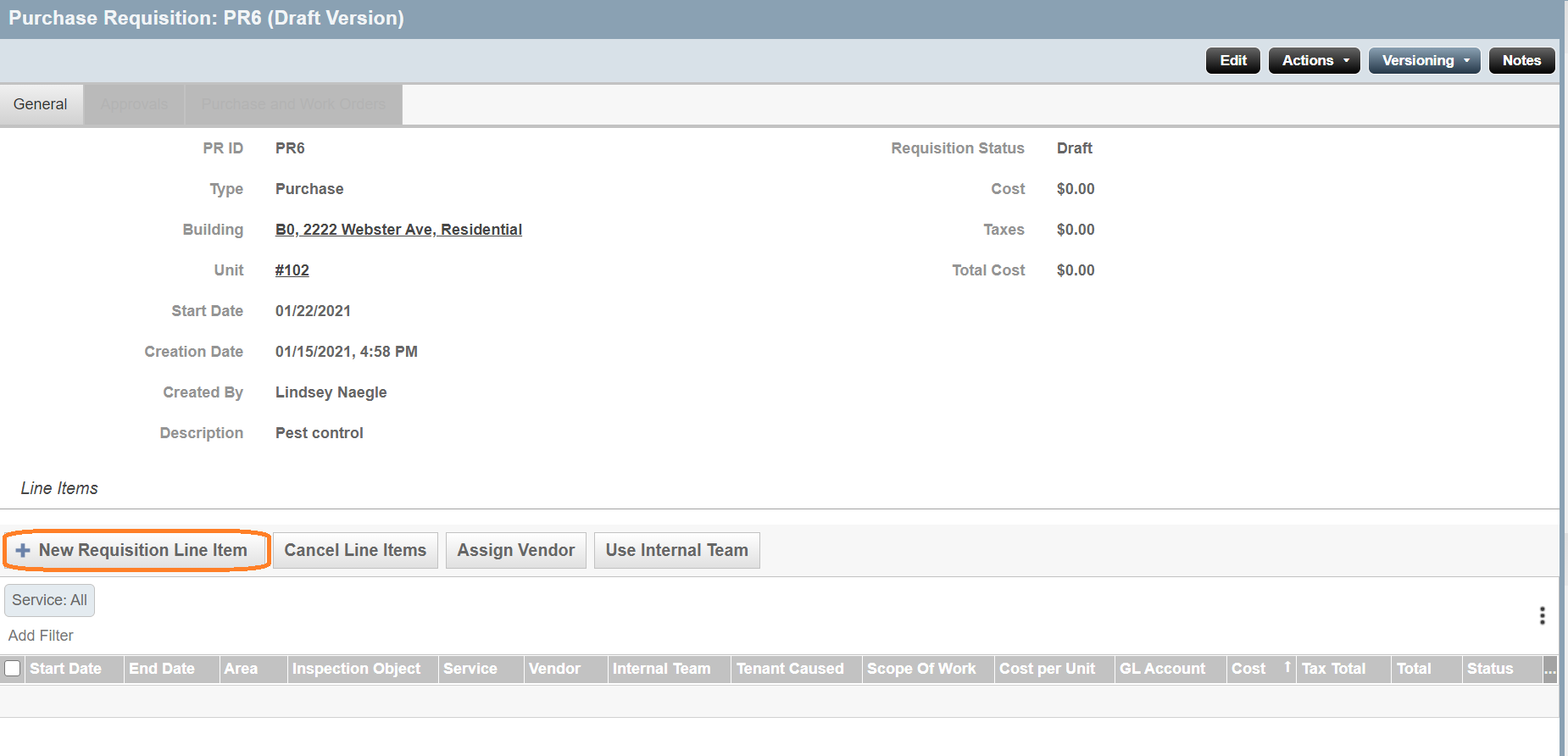 Now, you will need to fill in the different sections and SAVE. The quantity UOM concerns the Unit of Measures. You have the ability to define the UOM if you wish. Click HERE for how to add a new UOM in the system. This UOM is optional, not required.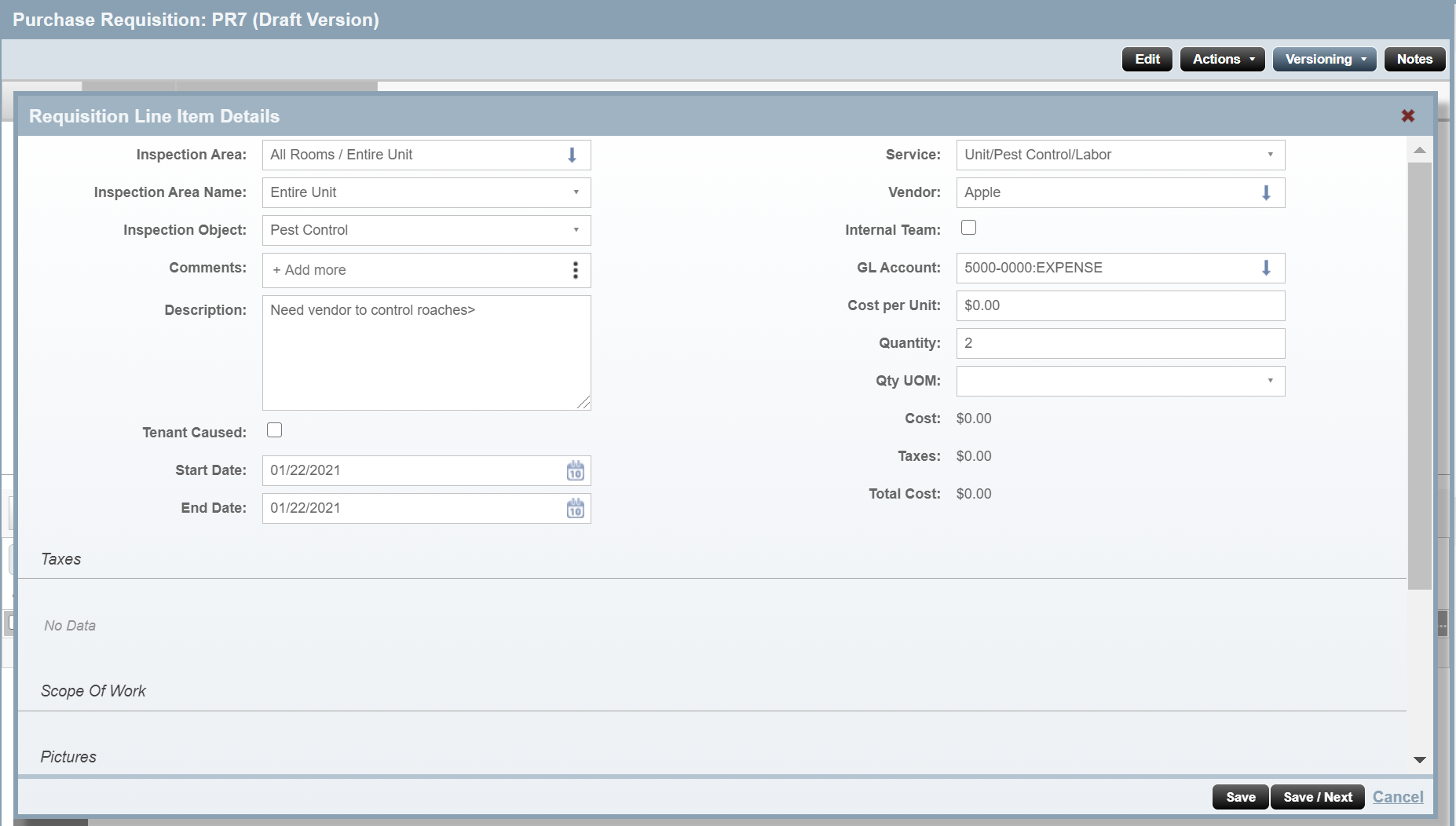 The Purchase line item will appear once created. Until it has been approved, you can modify in the Purchase Requisition.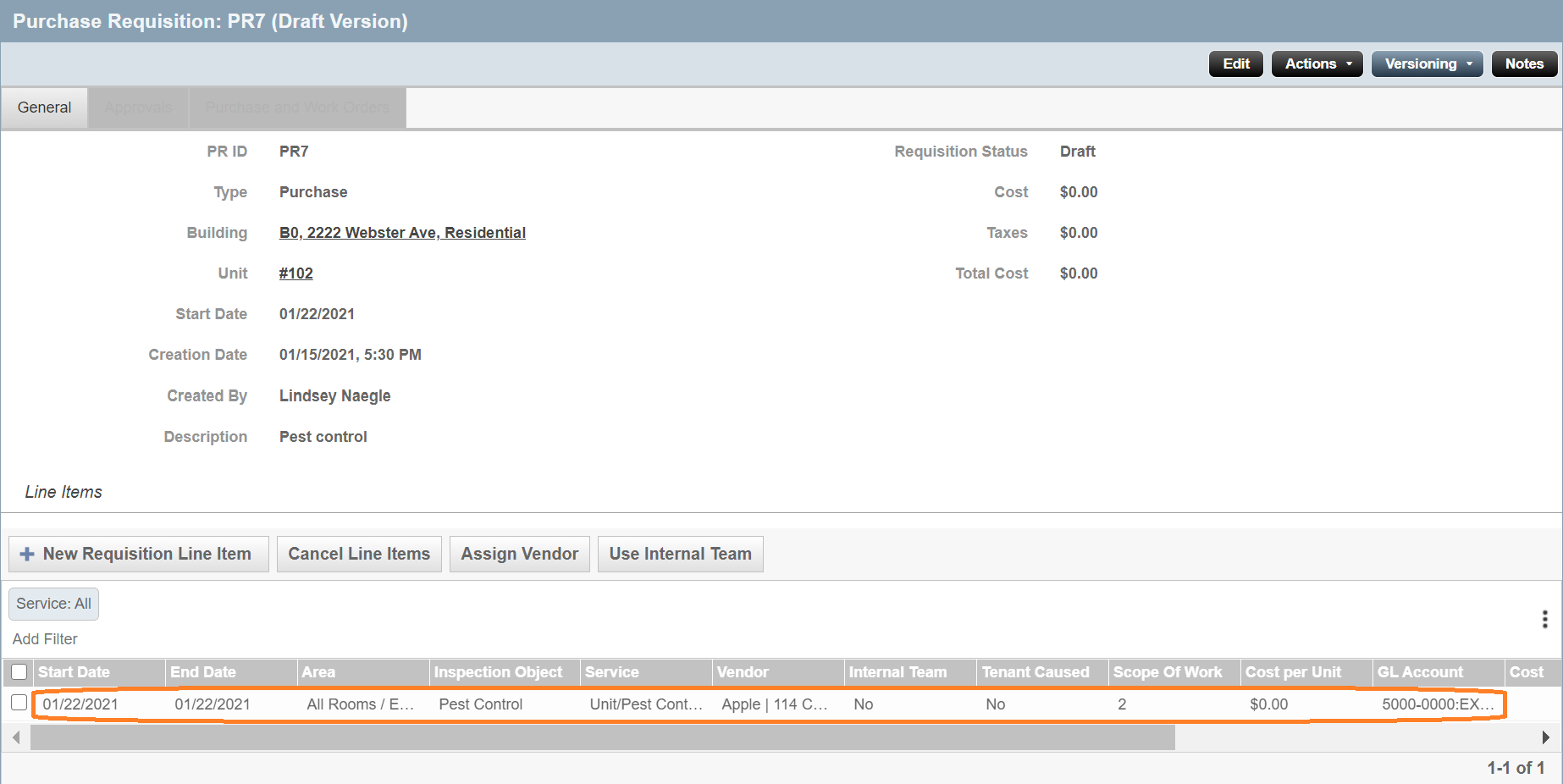 Multiple versions of a Purchase Requisition (Version 1, Version 2 etc.) can be created. YOU CANNOT REVERT TO THE PREVIOUS VERSION. Previous versions are only for audit purposes.
Click on FINALIZE then SUBMIT.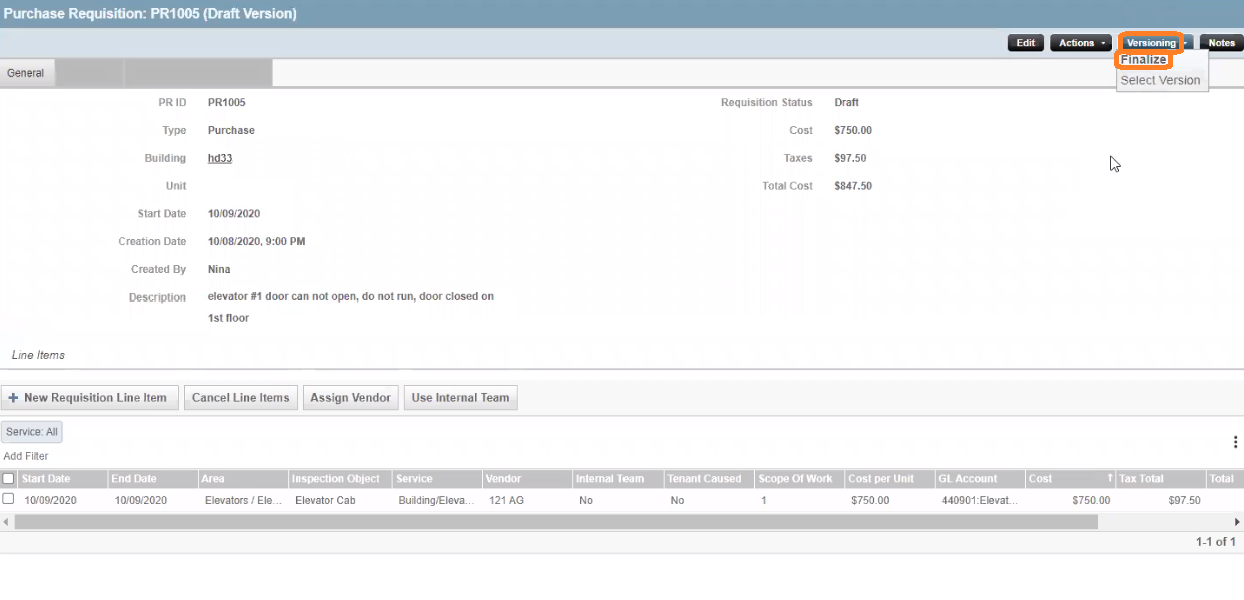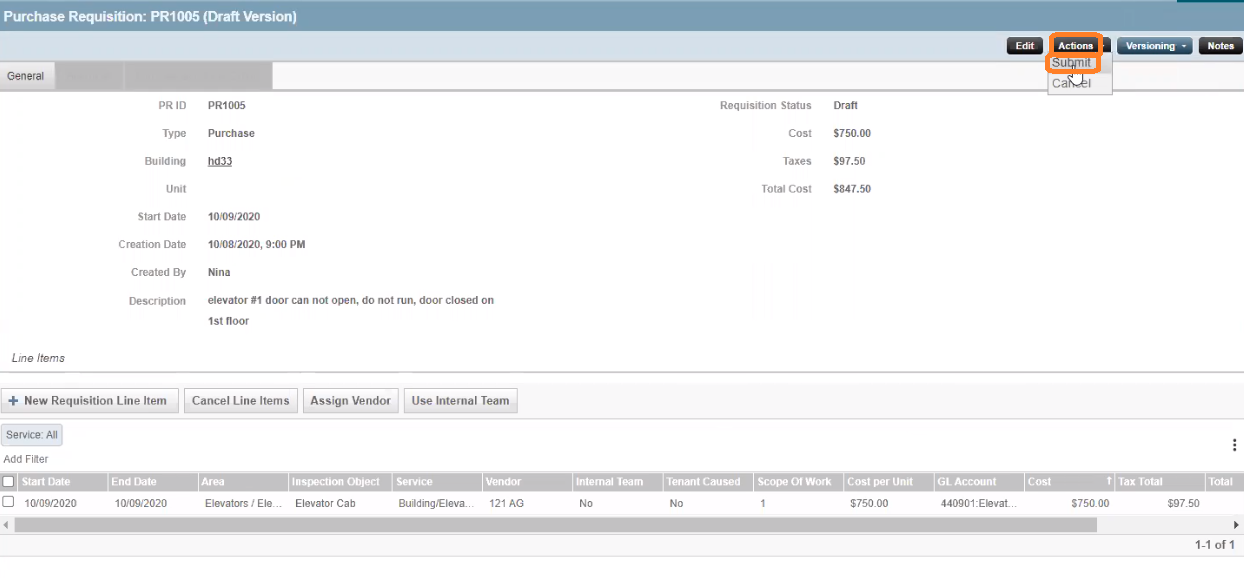 APPROVAL
Now that the Purchase Requisition has been created, it needs to be approved by staff from your company.
They will receive a notification (bell logo on the CRM environment + email) and will be invited to approve the Purchase Requisition.
Click HERE if you want to know further about communication/notification.
Click HERE to learn how to set up the Approval Policy.
Once it is approved, the requisition status will be updated.
Here we can see one example of a purchase requisition approved. It shows the name of the building concerned, the unit number. In our example, we can see this purchase requisition was not created manually, it came from an Inspection: "Repairs and Maintenance - 764 (04/20/2020)".