To review and configure your inspection objects go to ADMINISTRATION -> SETTINGS -> MAINTENANCE & INSPECTION -> INSPECTION OBJECTS.
Here you will find a list of all possible inspection objects.
You will also see objects have an inspection level, building level objects that will be specific to building inspections and unit specific to unit inspections.
In our example, we will select 'Air conditioning';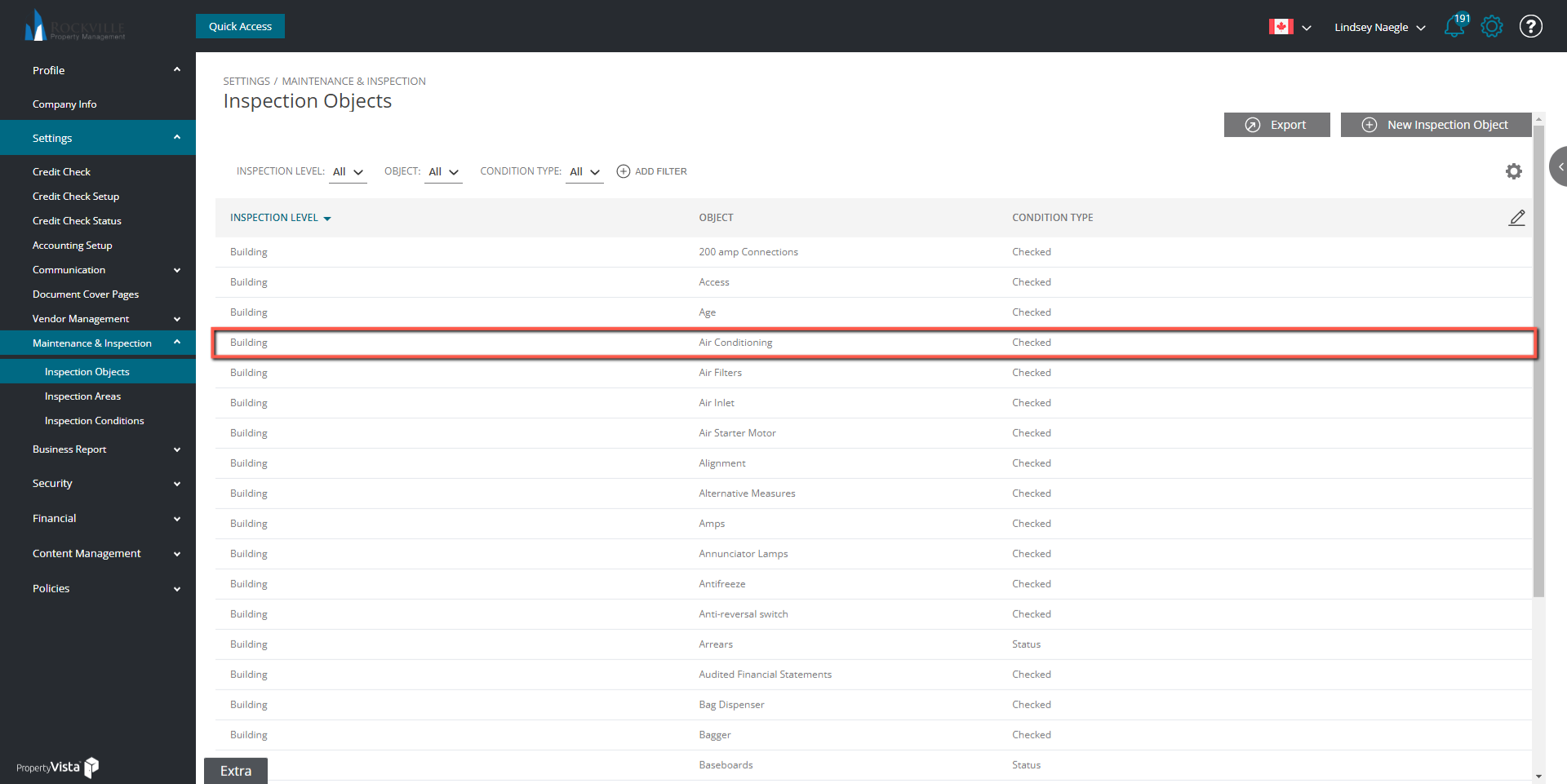 You have the ability to edit the objects by editing the object name and also including the correct condition type. In our example below, we will select "Good/Damaged/NA".
Inside the condition type, you will see below that you can add a condition value. Here, we have selected "Damaged" and you can now decide/select if this inspection requires a picture and/or a comment.
It is highly recommended to do it for every condition value from the condition type, because it will force your inspector to take a picture and/ or leave a comment.
You can also identify whether the quantity of the object needs to be mandatory and add possible descriptive details to guide the inspector (Length, Color, Height, Width, Material etc...). You can again decide whether the details should be mandatory, forcing your inspector to give the information.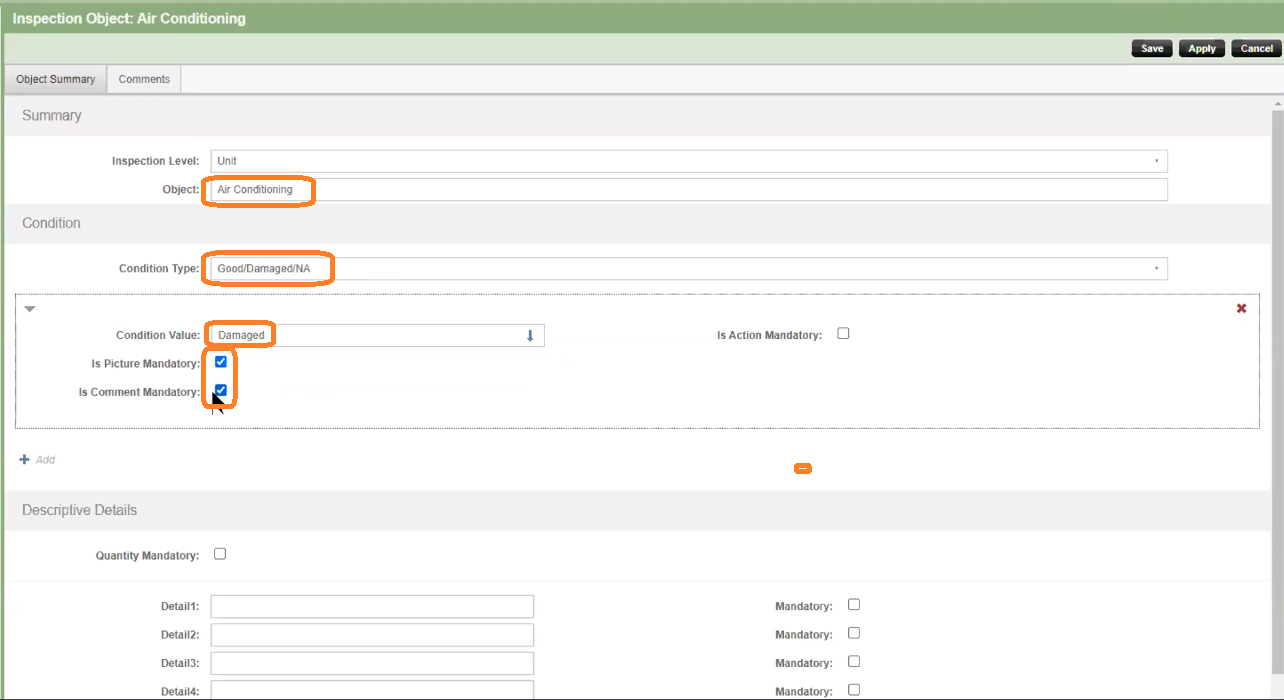 If desired, you can select the Quantity Measure Unit.
You would need to have defined measures. Click HERE to see how to add a new UOM in the system.
You will also notice within the object tab, there is a comments tab. In this section there are predefined comment bubbles that you will be able to use later in the inspector app. You have the ability to edit them, change the order of them but also delete and add new ones.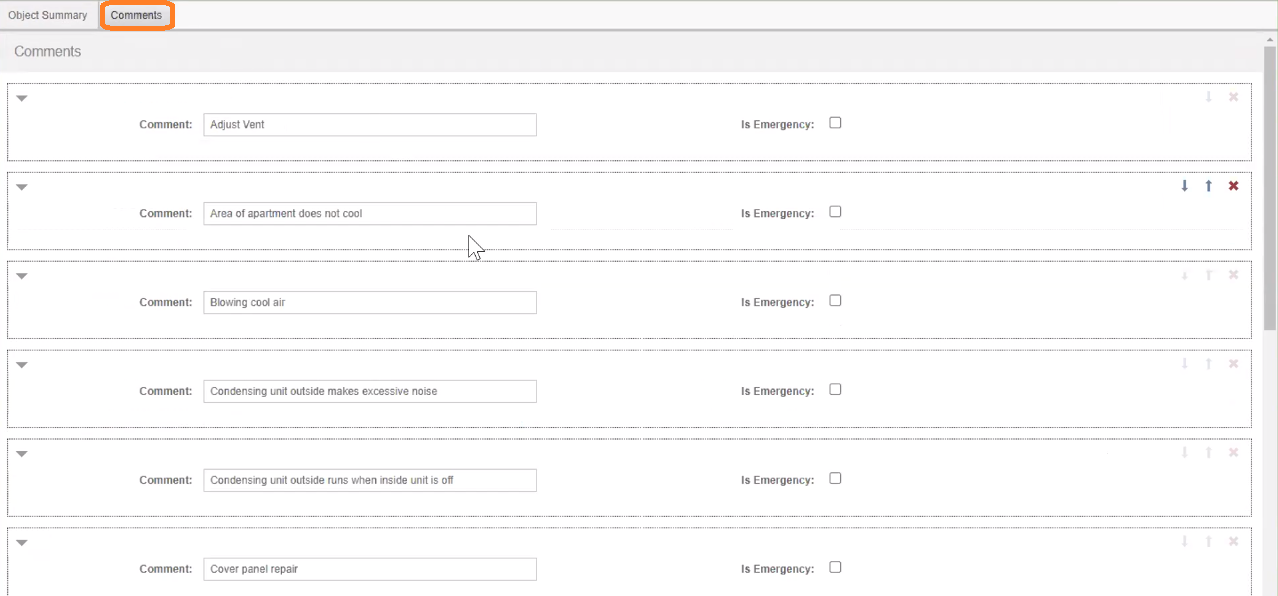 You have the ability to treat every single existing object or new object that you create with the same process above. Once you are complete, you will need to take a look at how these objects link to the areas- see HERE
Related articles
I. Settings - Step 1 - Inspection Conditions: Click HERE to learn how to set up the Inspection Conditions in Settings.
I. Settings - Step 3 - Inspection Areas: Click HERE to learn how to set up the Inspection Areas in Settings.
II. Policy: Click HERE to learn how to set up the Inspection Policies
III. Create a Unit Inspection: Click HERE to learn how to create a unit inspection.
Inspector App: click HERE to discover the Inspector App.