In this article we will be looking at how to ensure your lease balances are at $0 before closing them.
If the lease has been terminated in advance or if notice has been placed on the lease and the term has come to an end with enough notice, the following steps can be followed;
Tenants & Leases -> Lease -> "Select the lease concerns" -> Actions -> Vacate -> Run Final Bill.
Confirm Outstanding Balances
Check the Financial Summary and financial balances of the Lease to confirm it has no outstanding balance;
Views --> Lease Financial --> Summary/ Balances
Once this bill has ran, check that the amounts due are $0. If they are then you can click into the bill -> actions -> confirm.
If this bill still shows a balance then you will need to click into the bill -> actions -> reject. Go to the lease and create adjustments as necessary to ensure the lease balances and lease summary tables are $0.
From here, Actions --> Run Bill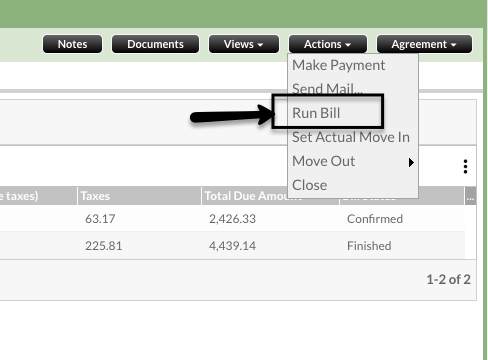 Once the bill runs with a $0 amount due, you can close the lease. Lease -> Actions -> Close Lease;