This article will run through how to set up the Eviction Notice policy in order to be able process your evictions.
Getting to Policies: Administration -> Policies -> Legal -> Eviction Notice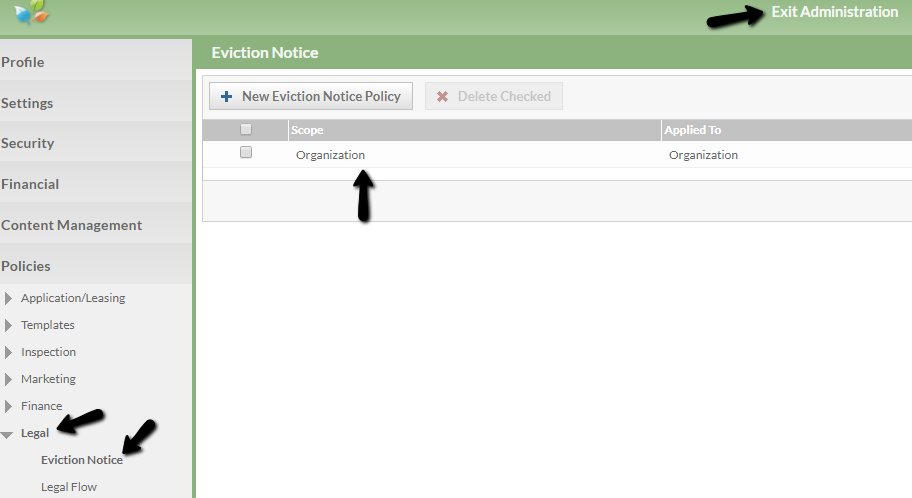 Step 1- Scope Tab
Please ensure you always have an organisational policy set up using the following steps. Once you have done so you can create multiple Eviction Policies based on Province/ Complex and Building.
Step 2- General Tab
You must choose the AR codes in the system that you want the Eviction Notice to apply to if they are in arrears. We provide you with all possible AR codes at this point. Click +Add to add these codes and SAVE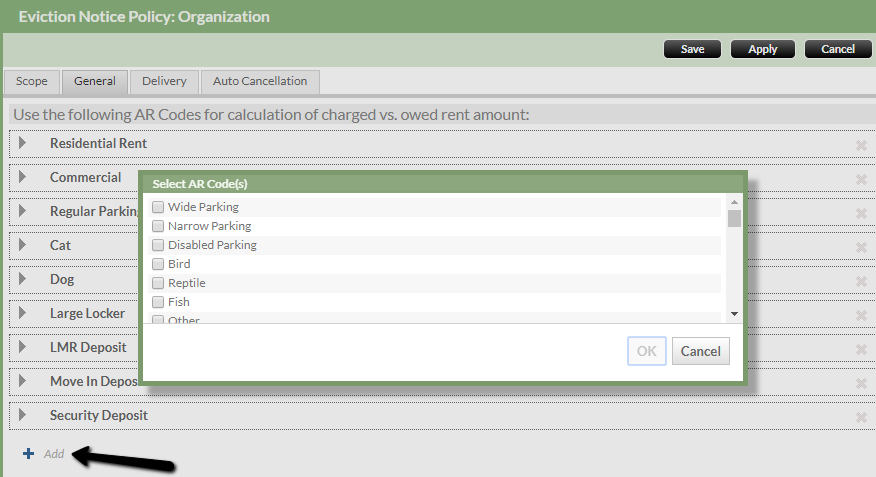 Step 3- Delivery Tab
This tab allows you to set the termination date calculation.
Advance Days Long Rent:

Adjusts the Termination by numbers of dates if the lease is monthly or longer term.

Advance Days Short Rent:

Adjusts the Termination by numbers of dates if the lease is daily or weekly term

Notice Delivery Days:

This is the number of days you want to allow for delivery and when the notice is created, the system can calculate the date of the notice by following this policy.

Step 4- Auto Cancellation Tab
Use this tab to set the rules to automatically cancel the notice. Property Vista's system will keep track of open termination notices to avoid creating duplicate for Tenants already in the legal pipeline.
Cancellation Threshold:

Set a $ range limit to automatically cancel the notice. If $0.00 is chosen the notice will remain in tact even if $0.01 are remaining. NOTE- if futher legal steps are entered into PV the notice will not longer expire even if the balances meet the cancellation threshold.

Expiry Days:

Set number of days after which the termination notice will automatically expire. If you do not want to have an expiry set the number to 356 or higher.

Once complete and SAVED please see HERE for the remainder of the set up items you will need to set up BEFORE you can run the notices.