Migration Date

• The migration date will vary depending on the desired outcome. If you would like to process all 1st of the month payments through the old Merchant Account, the migration should then be done a few days after the 1st of the month to give most tenants the ability to pay rent.

• If you would like to process the 1st of the month payments through the new Merchant Account, proceed with completing the migration by the 28th of the month.



Migration Steps

In cases where the Property Management company or ownership changes and both parties use Property Vista we have made it easy for the data to be migrated.

Step 1: The Property Management company that has the "data" needs to authorize and "send" the building data to the new Property Management Company or Owner.

PROPERTIES--> BUILDINGS --> SELECT BUILDING IN QUESTION. From the ACTION Menu select MIGRATE BUILDING. Complete the necessary information to send the data. The Migration Date is the estimated date the building ownership is switching (refer to the paragraph above for details).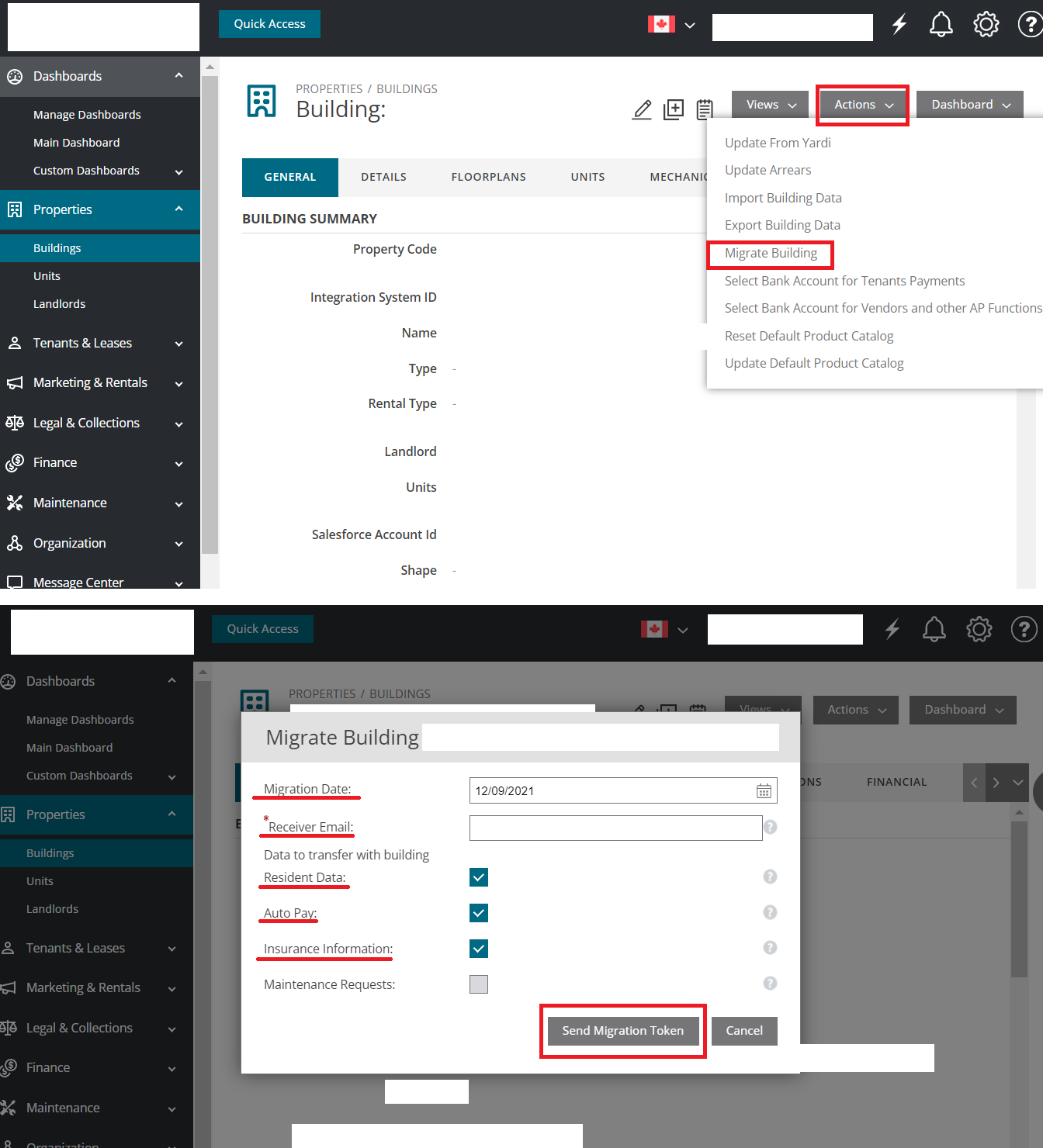 Step 2: The "New" Property Management Company needs to ACCEPT the import of the data that was sent via EMAIL and assign it the same Property Code as will be setup in Yardi. If the Email was not received, please check the SPAM folder. Please Note: Multiple property codes can not be merged to One property code using this function.
Step 3:
Add New MID to the property
(See here)
Step 4:
"New" Property Management Company needs to add the "New" property in question to Yardi, set up leases and tenants and add it to the Property Vista building feed.
Once the system does its daily synchronization it will recognize the same Yardi code that was setup in step two and automatically migrate the appropriate data.
Outgoing Communications


Tenants will get an automatic notification and email advising them of the management change and that their account has been transferred, with a new login link included. There is no need for a tenant to re-register, tenants are not required to take any further actions.
To assist with the complexity of a building ownership change we have automated several communications that occur automatically with the Migration of a Property.
Please review the full communications and how to edit HERE.
Please review templates accordingly and add any data/reference that may be missing (such as Name and Contact information of Administrator for the new Property)