Here you can configure the check/cheque image to be issued from this account.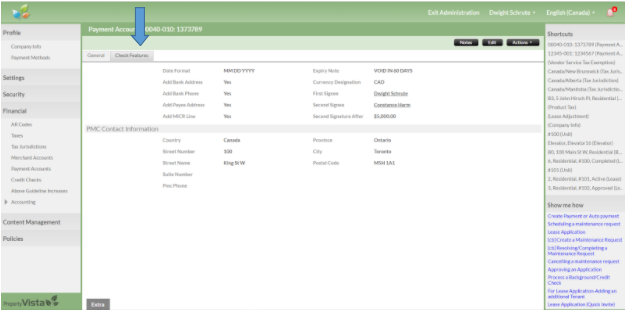 You have to specify date format and your address to be printed on the cheque.
Other configuration parameters:
Add Bank Address and Phone – indicate if bank address and the phone will be printed on the cheque.

Add Payee Address – indicates if vendor address will be printed on the cheque.

Add MICR Line – indicates that cheque image should be created with or without MICR line.

Expiry Note – free text to suggest how many days vendor has to deposit the cheque.

Currency Description – highlights currency in which cheque is issued.

First Signee – employee who signs the cheque (if an electronic signature is stored in the system, it will be used).

Second Signee – use if more than one employee should sign the cheque.

Second Signature After – amount after which second signature is required.

Printed Account Number - This is the account number that is PRINTED on the MICR line. To add the Special Symbol use the "-" when entering the Printed Account Number:
After check/cheque features are saved, you can preview check/cheque image
Sample image will be displayed.