This document is the agreement between the Merchant and Payroc.
The Merchant has to complete the document.
Here are the different sections explained:
Page 1:

On the left, the Client is the legal name of the Merchant. Example: 12345 Ontario Inc.
On the right, the Effective Date is the moment when you are starting to filled in this document.
Page 3:

On the left: This is to be completed by Payroc.
On the right: This is the legal name of the Merchant signed by the owner or Officer of the business. Someone who has control of the Company business and who can sign legally contract on behalf of the business.
Page 4: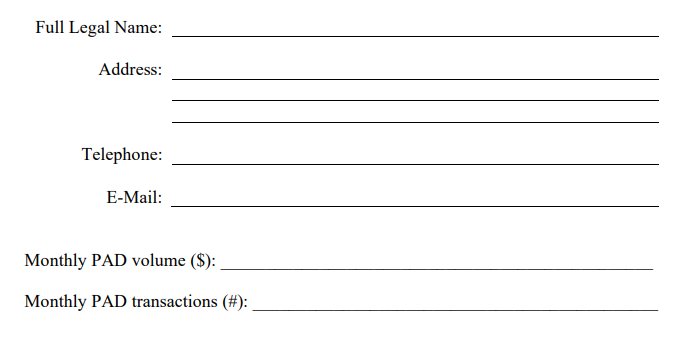 Full legal name: Concerns the business
Address: Concerns the business
Telephone: Concerns the business
Email: Concerns the business
Monthly PAD volume and Monthly PAD transaction: This concerns your rent roll. For example if you have 100 units, you will multiply by your rent.
It is better to put the maximum just to know what we are dealing with. Better to overestimate than underestimate.
Page 6: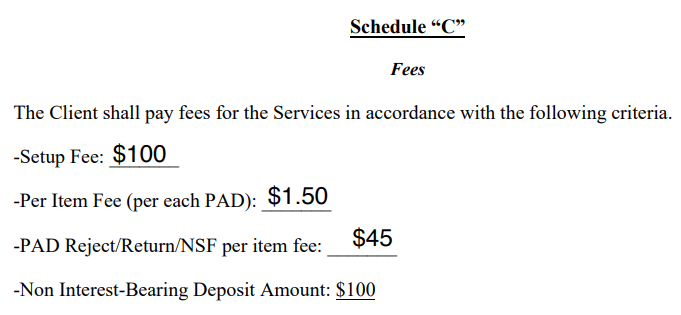 Setup Fee: $100
It is a one time fee per bank account added in the system.
Per Item Fee (per each PAD): $1.50
It is the charge for the PMC every time the tenant proceed to a transaction by direct banking
PAD Reject/Return/NSF per item fee: $45
If a payment is rejected, this is the amount that the tenant will have to pay.
Non-Interest-Bearing Deposit Amount: $100
This deposit will be released at the end of the contract.